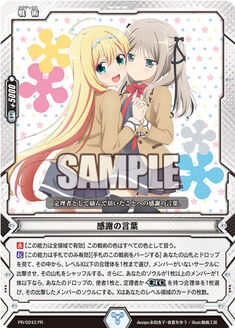 Recent Blogs
Daburu
•
Summaries are exhausting, but line by line is even more so.
1

Yoshichika & Athena

2

Olga & Lucifer

3

Giselle & Sakuya

4

Yuuko & Vesta

5

Mahiro & Dread

6

Aoi & Thor
The section begins with bridge crew talking abou…
Welcome to the Luck & Logic Wiki!
EiPe1998
•
So, Bushi has released a game for mobile (Tap Hina Logic). If there's one problem I have with it, it's that the names for some of the foreigners are not the ones here this wikia. Sure, those foreigne…
See more >
Welcome to the Luck & Logic Wiki

[

]
The Luck & Logic Wiki is an English database of cards, rules, news, and stories for the Luck & Logic franchise. Get started by reading the gameplay guide here!
About the Luck & Logic TCG

[

]
Luck & Logic (ラクエンロジック Raku en Rojikku) or Lucklogi (ラクロジ Rakuroji) is the newest trading card game by Bushiroad. It was first released in Japanese on January 28th, 2016 and in English on June 24th, 2016.
Luck & Logic is a two-player card game. Players are able to call allies, known as members, to the battlefield. By using the power of trance to combine regular humans called logicalists and creatures from alternate worlds called foreigners, players are able to call on tranceunions to defeat their opponents and their differing logic!
Official website: http://luck-and-logic.com/ (Japanese, defunct and replaced with an unrelated site) • http://en.luck-and-logic.com/ (English, defunct)