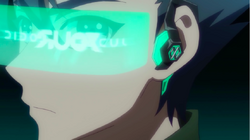 A Logigraph (ロジグラフ Rojigurafu) is a piece of equipment worn by Logicalists, taking the form of an earphone with a mic.
When activated, the Logigraph says "Judge your logic," then generates a screen in front of the user's eyes. Once on, a Logigraph has a variety of functions, including data analysis, communication, closing gates, and forming covenants. Staff members in an ALCA control room are responsible for analyzing and calculating data sent from Logigraphs.
The voice for the Logigraph units is provided by Suzuko Mimori.
Gallery
[
]