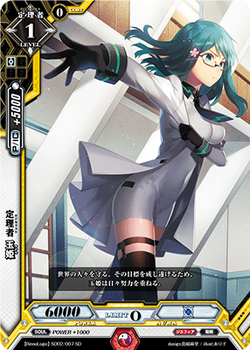 Logicalists (定理者 Rojikarisuto) are people who can fuse with foreigners through the process of Trance. They play a prominent role in the Luck & Logic franchise.
TCG
[
]
In the TCG, logicalists are a type of member, denoted by the black diamond

around their level number.
By performing Trance, logicalists can combine with foreigners to mobilize Tranceunions.
Lore
[
]
Most logicalists are members of the Another Logic Counter Agency, a Septpia-based organization dedicated to protecting the world from threats from different worlds.
Not everyone can become a logicalist; people are born with or without the gift. A logicalist's abilities lay dormant until, one day, they suddenly appear, for reasons yet to be determined by ALCA. Without exception, a logicalist's powers are awakened during adolescence, and the power gradually fades away during adulthood. Due to their rarity, whenever a logicalist is discovered, they are immediately taken by ALCA and inducted into the organization, regardless of whether that individual consented or not; Giselle Thunders is an example of a logicalist forcibly conscripted into ALCA this way. However, ALCA occasionally misses logicalists while looking for talent, as in the case of Mejiko Touma.