Jurassic World: Dominion Dominates Fandom Wikis - The Loop
Play Sound
A covenant (盟約 Meiyaku) is a binding agreement between a logicalist and a foreigner. Once a covenant is formed, the logicalist and foreigner pair may trance.
TCG
[
]
Covenant is a keyword, which is triggered when your member possessing it trances with another member that has one of the specified names in its card name.
Reminder Text
[
]
Covenant-

<specified logicalist>

or "first name" or "second name" or "third name" (This ability is active when this member trances with the specified member)
盟約-<specified logicalist>か「first name」か「second name」か「third name」(指定メンバーと合体した時に有効)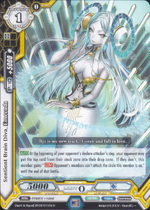 Starting from BT03 Spirit & Signal, foreigner cards have a hexagon-shaped indicator on the bottom right corner of the card alongside where its respective world and attribute would be. This icon will have the name of its intended logicalist to trance with, although it does not mean that the foreigner can only trance with that logicalist.
Starting from BT04 Aid & Arms, a new Covenant clause for logicalists was added which now indicates the new icon instead. As cards before BT03 didn't have it, logicalists with intended foreigners from those sets have to specify them.
Lore
[
]
Forming covenants is one of the functions of the Logigraph. During the covenant process, the logicalist and foreigner must declare to devote their logic to each other. The two individual parties in a covenant are known as covenanters (盟約者 Meiyakusha).
Having a foreigner partner is not a necessary requirement of being a logicalist and joining ALCA. New logicalists like Yukari Nanahoshi will usually not immediately get a partner, but it is unusual for a logicalist to be a long-time member of ALCA and still have no covenant, as in Olga Breakchild's case.
A logicalist can form covenants with multiple partners. [1]