For this character as she appears in the anime, see Chloe Maxwell.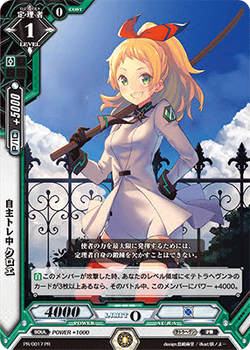 Chloe (クロエ Kuroe) is a Logicalist associated with the color green and the Splendor attribute. Her covenanters include Daiga, Fyrill, Valkyrie, Teeb, Nata Taishi, Fuko, and Hermes.
Chloe cards focus on the primary aspects of the color green: increasing stock and increasing power. Many Chloe cards add cards to your stock zone, increase your members' power for both your and your opponent's turn, and gain benefits based on the number of cards in your stock zone.
List of Chloe members
[
]
Level 1
[
]
Level 2
[
]
Level 3
[
]
Level 4
[
]
Level 1
[
]
Level 3
[
]
Level 1
[
]
Level 2
[
]
Level 3
[
]
Level 4
[
]
Level 1
[
]
Level 4
[
]
Level 1
[
]
Level 2
[
]
Level 3
[
]
Level 4
[
]
Level 1
[
]
Level 3
[
]
Level 4
[
]
Level 1
[
]
Level 2
[
]
Level 3
[
]
Level 4
[
]
Level 2
[
]
Member
[
]
Level 1
[
]
Level 2
[
]
Level 3
[
]
Level 4
[
]
Tactics
[
]
Paradox
[
]