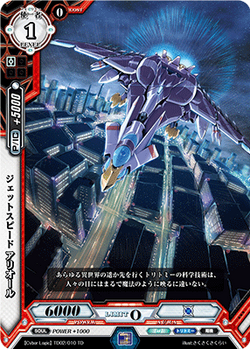 Aryol (アリオール Ariōru) is a foreigner associated with the color red, the world of Tritomy, and the Glider attribute. Their covenanter is Yukari.
Lore
[
]
Aryol Raptores 015 (アリオール・ラプトレス015 Ariōru Raputoresu 015) is an all-purpose combat aircraft whose sole purpose was to hunt his prey from the skies. In Septpia, he takes the form of an eagle.
Aryol was one of several hundred units manufactured by a Tritomy production line, and was from the beginning planned as a disposable combat machine. He came to Septpia because he was curious about its flesh-and-blood eagles, who resembled himself, and was bewildered by the difference in flight ability when his body changed into a biological one due to adapting to Septpia's logic.
One day, Aryol crashed into an ALCA helicopter that Yukari was in. She barely managed to catch Aryol before he started plummeting, and took him to an ALCA medical facility. Aryol attempted to leave despite his injury, believing himself to be merely a replaceable drone. However, Yukari pointed out that, since Aryol came to Septpia to see the eagles, he was showing signs of individuality and emotion, something foreign to Tritomy. Yukari offered to covenant with him, promising to find him a real eagle, and Aryol decided to live as an irreplaceable individual.
List of Aryol members
[
]
Level 1
[
]
Level 2
[
]
Level 3
[
]
Level 4
[
]
Members
[
]
Level 1
[
]